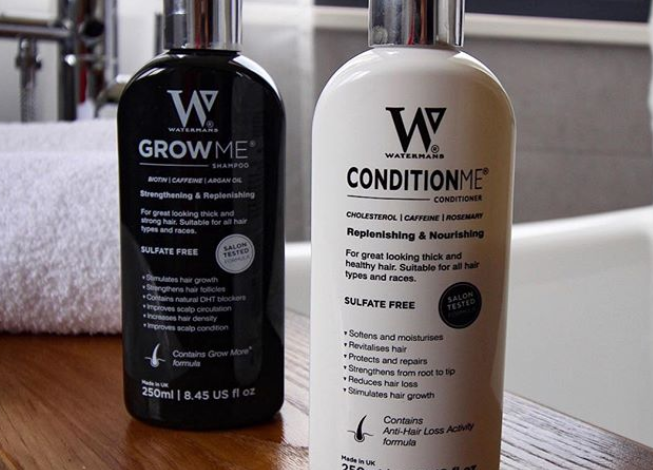 Hair Growth Shampoo Pulls In Rave Reviews
A hair growth shampoo has been hailed a 'miracle' product, with hundreds of people sharing impressive before and after photos.
The Watermans Grow Me shampoo and conditioner has more than 400 glowing, five-starreviews on Amazon, with many showing off their results.
According to the company's website, Grow Me shampoo promotes health hair growth and contains a 'clinically proven ingredient for anti-hair loss' which 'maximises hair growth rate, strengthens hair follicles, improves scalp circulation and can increase hair density'.
But if you don't want to take Watermans' word for it, there are hundreds of reviews online.
One happy customer wrote: "Wouldn't buy any other product for my hair now. My hair has finally thickened and is growing. After losing hair to illness I couldn't recommend this product enough."
Another posted: "After losing all my hair from chemotherapy I started using the serum and now my hair has grown now use the shampoo and conditioner. My hair has grown back thick and fast and not at all wiry, lovely and soft and great condition. I'm really pleased!"
A third, who titled their review 'my miracle shampoo', said: "My hair has been falling out for years. Never been given a proper diagnosis for it. Saw all the great reviews for Watermans, decided to try it. All in all this has been by far the best treatment. My hair is much fuller and thicker looking. One hundred percent worth the money and would recommend this shampoo to anybody who has hair loss problems."
The products creators Matt and Gail Waterman said they initially made the shampoo to treat their own hair thinning problems, but soon realised that there was a huge market for it.
Speaking to the Daily Mail, former hairdresser Gail said: "We just created our products to start off with for my benefit but because it was so effective, we decided to pass it on to other people who had hair loss problems with no success.
"We both saved money from savings and made our first 5,000 bottles of shampoo and put them for sale on Amazon. Three months later, they were already out of stock and now our products are so popular one tube is purchased every 30 seconds."
Now the pair regularly receive feedback from happy customers who are keen to share their results.
The shampoo contains caffeine, biotin, argon oil, hydrolyzed lupin protein and a bunch of vitamins. It's made in the UK and is cruelty free and vegan. You can pick up both the shampoo and conditioner for £22.95 from the company's website or Amazon.