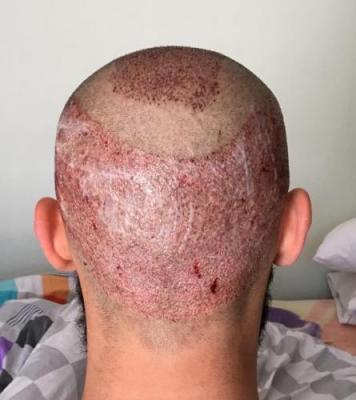 ISTANBUL TURKEY ESTEMYLIFE HAIR TRANSPLANT RESULT BEFORE AND AFTER
I had my FUE hair transplantation on Oct 18, 2017.
I had a smooth operation.
Dr.Hasan team is professional and friendly. I didn't feel stress, neither pain prior and post operation. It went like magic although it took 8 hours and a half to transplant 4000 grafts.
FUE procedure have one minor inconvenience; i felt uncomfortable while anaesthetizing my scalp.
I want to thank Dr.Hasan and his team for their support. The welcoming i felt since i arrived at Ataturk airport where a prestigious taxi was waiting to drop me at Tempo Hotel (5 stars), and the helpful consultation prior operation, not to forget the bright side of all this experience which is the weekly follow up am getting thru whatsapp in order to check results and get instant support from Dr.Hasan himself for any question in mind.